Household Hazardous Waste Drop-Off Day, Jun. 25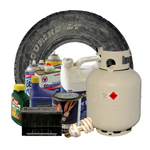 The City of Boston Household Hazardous Waste Drop-Off event is coming on Saturday, June 25, 2011! Use this free service to safely dispose of chemicals and other materials. Residents of Boston are invited to bring hazardous materials to the West Roxbury Public Works Yard, 315 Gardner St, West Roxbury (Behind the Home Depot) from 9:00 a.m. to 2:00 p.m.
For Boston residents only. No commercial waste will be accepted. Proof of residency required. Foot traffic is prohibited. The City reserves the right to reject materials. For more information call 617-635-4500. Read on for waste material guidelines.
Guidelines:
Put household poisons, insecticides, paint, tires, auto fluids, car batteries, wood preservatives, herbicides and pool supplies, propane tanks, motor oil, and products labeled corrosive, flammable or toxic in cardboard boxes for safe transport and bring them to the above location. For a complete list of acceptable materials, visit www.cityofboston.gov/publicworks/RecyclingandSanitation/hazardous.asp.
No TVs & Computer Monitors
TVs & computer monitors are NOT accepted at Household Hazardous Waste Drop-Off Days. Please call 617-635-4500 for home pickup of TVs and computer monitors.