Wild Flavors: Haley House fundraiser Oct. 16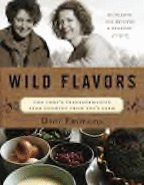 A fundraiser for Haley House Bakery Café, celebrating the Publication of Founding Chef Didi Emmons' New Cookbook, is happening October 16th, 3-6pm at Haley House Bakery Café, 12 Dade Street, Roxbury, MA /617 445 0900.
Tickets are for purchase ($100) at: http://www.brownpapertickets.com/event/198923
($80 of this ticket is tax deductible.)
On October 16th, various chefs will gather at the Haley House Bakery Café in Roxbury's Dudley Square to prepare and serve dishes from Founding Chef Didi Emmons' third cookbook, Wild Flavors: One Chef's Transformative Year Cooking from Eva's Garden. Guests will sample dishes made with the absolute freshest ingredients from Eva's nutrient-rich garden by Emmons and some of Boston's finest chefs, including Robert Mancuso (The Country Club, Chestnut Hill), Asia Mei (Sam's at Louis), and Doug Rodrigues (Clio).
See this link for more.